MEET AND GREET INSTRUCTIONS AND PROCEDURE FOR DROP OFF AND RETURN.
On drop off day please call 15 minutes in advance before arrival on 07713 480326 or 07500 803 230 to inform us of your impending arrival as we will not be held accountable or liable for any parking charges you may incur.
Parking charges for exceeding the 15 minute time limit are £5, increasing to £10 after 1 hour.
When you arrive at the airport please follow the signs to the short term car park, on arriving the short term parking follow the signs to the designated meet and greet area.
Our drivers all carry personal identification and will have a copy of your booking details.
Our driver will help unload your luggage, check your vehicle's condition and confirm your return flight details with you. The driver will ask you to sign the paperwork and give you a copy. Please hand your car keys only to your driver, (no house keys)
Luton Meet and Greet Parking can only take responsibility for vehicle keys. As your driver may need to contact you please ensure that the correct mobile number has been provided on the booking details.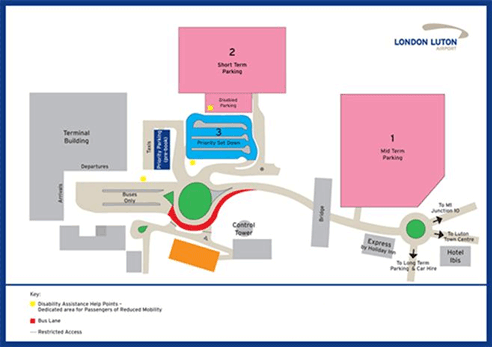 LATE/EARLY ARRIVALS
If a customer is arriving over 20 minutes earlier or later than indicated on their booking we may ask you to follow the signs to the MID TERM Car Park free drop off area (number 1 on the map) first. Your driver will then call you when they are near and ask you to go to the Short term carpark (number 2 on the map, just by the yellow asterix) where they will meet you.
RETURN INFORMATION
When you reach the terminal building you will receive a 'Welcome Home' text message from us as soon as you turn your phone on.
We will have tracked your return flight and your driver will be waiting close by with your car. Once you are ready to come into the Short term carpark where you dropped your car off, please call us on 07713 480326 or 07500 803 230 to let us know that you are ready to take your car, and our driver will come and meet you. Please note that there is a strict 10 minute waiting time in the drop off zone therefore it is essential that you do not call your driver until you are on your way.
Your driver will check your car with you and ask you to sign that you are happy with its condition. He may ask to see your ID to make sure that we are returning the right car to the right person.